https://www.apparelnews.net/news/2018/jan/25/improvisation-leads-polymer/
Improvisation Leads to Polymer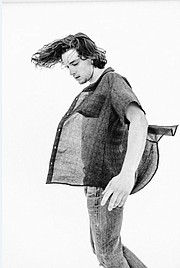 Eric Basangan was short of room in his house in Long Beach, Calif., when relatives showed up to attend his daughter's high-school graduation last year.
He improvised by buying a more than 50-year-old Franklin Trailer, turning it into a temporary living space for him and his wife, Sarah. Once the relatives left town, he remodeled the 1962 trailer again and reconfigured it into an office and a store on wheels for his recently introduced men's clothing line, Polymer.
Like the trailer, the line is inspired by a spirit of improvisation. Basangan said it was the only way to navigate the rapidly changing world of selling clothes, an industry he knows having worked for three years as a brand manager for the menswear label Comune....